Regular price
Sale price
€2,37 EUR
Unit price
per
Sale
Sold out
✨Cleans as well as the leading brands
✅Worktops, tiles, stone, wood, glass, hobs
👌Easy: DROP, ADD WATER, SHAKE, Clean
🌊6 EcoDrops = 6 bottles saved from Ocean
💰Cheaper than buying another plastic spray
This 6 Pack Multi-Purpose Refill is the all in one solution for complete household cleaning. With its plant based, non toxic formula its easy on the nose and great for the world's oceans.

Kitchen worktops, bins, high-chairs, sinks, toilet seats…you get the picture, our Multi-purpose Cleaner EcoDrop works anywhere and everywhere. Think of it as your go-to cleaning spray for the daily spruce up that leaves a fresh and fruity apple fragrance drifting through your home.
How it's used: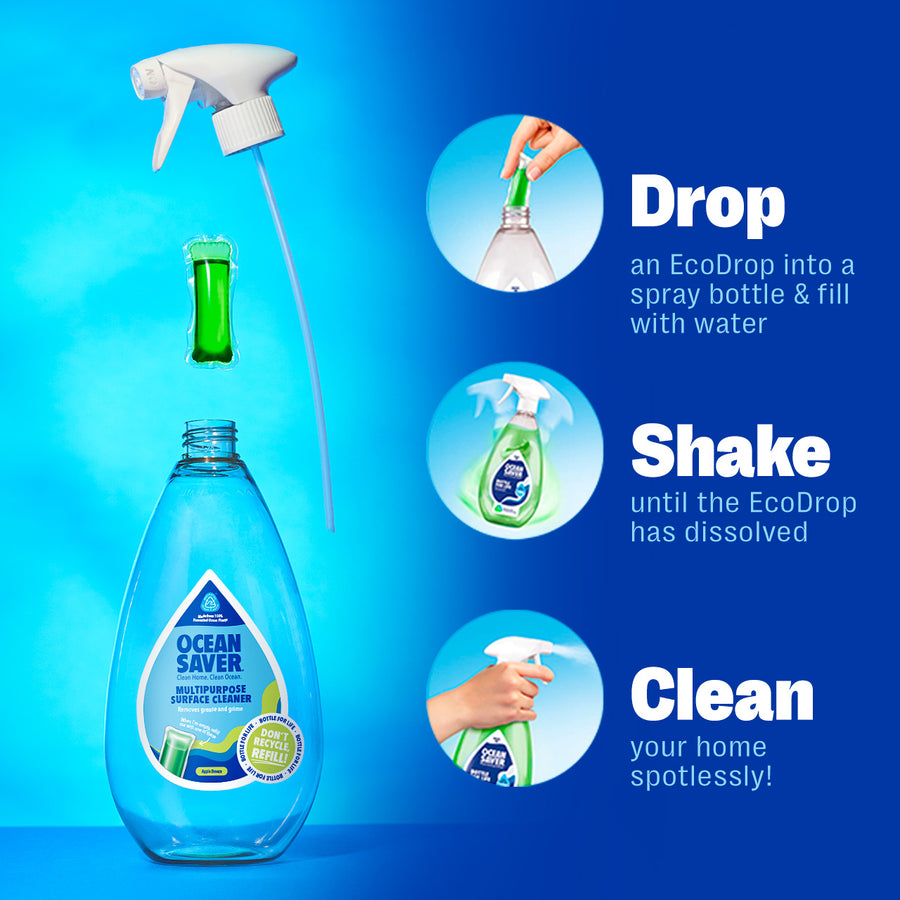 It's easy to use…Simply Drop, Add Water, Shake & Clean Spotlessly.

Place one EcoDrop into a clean 750ml spray bottle and fill to the top with water. Screw on the spray-top and shake. Leave to stand until the drop is fully dissolved. Spray from a distance of 20cm and leave to stand for 2 minutes then wipe down with a clean, damp cloth.

If you are reusing an old spray bottle, give it a good rinse before use and apply the stickers included in the pack to the bottle.
Ingredients & Safety:
>30% Non-ionic Surfactants, Phenoxyethanol, Perfumes, Linalool, Limonene.

WARNING: Causes skin irritation. Causes serious eye irritation. Keep out of reach of children. IF ON SKIN: Rinse skin with water. IF IN EYES: Rinse immediately with plenty of water for several minutes. Remove contact lenses, if present and easy to do. Continue rinsing. If eye irritation persists: seek medical advice. IF SWALLOWED: Seek medical advice immediately and show this label. Wash hands thoroughly after handling.

Please note: The above safety information is for concentrated pods only. Once diluted with water at home, these warnings no longer apply. Please refer to the dilute sticker included in the pack.
View full details